Andre Crawford and I decided to collaborate on a piece revolving around Rihanna's ANTI and the industry culture at large. It's been some time brewing since fans became aware of a new Rihanna project on the way. When it finally dropped, we knew that we were both interested in how ANTI could possibly shape her career going forward and what implications could be drawn from it all. These are our collective insights.
ANTI is the album that sets Rihanna apart from herself. It is the project she needed to record in order to take her artistry to another level. She did. She left the typical pop style records that did so well to push her to a certain height in her career, but at the same time, marginalize some artists to an extent. The material on ANTI is a part of a musical realm that is true and relatable. It is vulnerable, as it reveals pieces of Rihanna that deal with her inner psyche and feelings, but through that exposure, she ascends to a higher level, musically.
ANTI seems to be Rihanna struggling between leaving familiar territory and becoming who and/or what she knows she can be;  grappling with what is comfortable and what she knows will allow her to ascend to a higher level.  Rihanna's signature, yodeling, almost lazy tone creates the pot-head hazy smoker's anthem feel around the album. The muted emotion her voice generally carries is brought alive by the production.
You have "Consideration", which sets the tone of the album. "I got to do things my own way darling / Will you ever let me?" Rihanna expresses her desire to follow her instincts. The confident percussion, paired with SZA's anomalous intonation, creates the air of youthful abandon of convention. She declares that she's ready to be her own person.
The rest of ANTI is the personification of the struggle one faces when stepping into unfamiliar territory; ANTI is basically a breakup album.
The emotional upheaval runs the gamut of self-confidence and cockiness to insecurity and hopeless anguish. What draws me to ANTI more than anything is this newness of being cohesive. Coherence hasn't been a strong suit with the Bajan pop star but this seems to be strong in that regard.
As most of us do, Rih seemingly questions her decision to follow her own bliss.  The ganja-suffused interlude "James Joint" imposes sentiments of pubescent nostalgia where responsibilities were of no concern, feelings were felt, not explained, and tomorrow was an afterthought.
The responsibility to lead her own life free of other opinions seems to be a bit troubling as suggested by "Kiss It Better" as Rihanna attempts to bargain with her lover. Although she's trying to be better, she's willing to take him with her if he does right. Songs such as this, the dancehall infused "Work" and "Desperado" sweep across the themes of reconciliation and settling. It's about coming to an agreement with someone you've cut ties with for whatever reason, given that the circumstances change and if not, taking what you can get. "There ain't nothin' here for me anymore/But I don't wanna be alone".
What I noticed in this album is that the production, while not always intricate, fit the mood of the song. Toward the middle, you have the that theme of self-confidence and awareness.  "Woo" and "Needed Me" are classic Rihanna. The "phuck yo feelins" bad gyal reappears.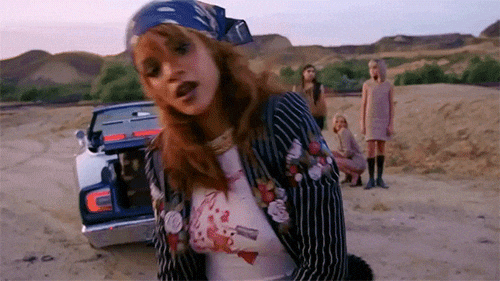 Assertive lyrics like "Bet she could never made you cry / 'Cause the scars on your heart are still mine" and "You was good on the low For a faded fuck, On some faded love/ Shit, what the fuck you complaining for? Feeling jaded, huh?" had me jumping out of my seat. The Rihanna we know and love will dump you in a ditch as quick as she picks herself up and keeps it moving.
As you get toward the end of the album, the crash starts to happen. "Yeah I Said It," the sensual anthem of a heated encounter precedes it.  After the bargaining, after that moment of pulling yourself up and reminding yourself that you indeed do have the juice, the reality of starting anew begins to set in.
"Love On The Brain" and "Closer To You" evoke feelings of last ditch efforts to make something work, even though you know it's over.  The songs are mediated with the interjection of "Higher" between the two; the bare-bones unpoetic track that is reminiscent of a drunk voicemail you leave on bae's answering machine after a bad fight.
Rihanna is showing a more intimate side of herself.  This album is definitely not going to be everyone's cup of tea because Rihanna has been known for most of her career as a singles artist.  This is probably her most cohesive and honest album to date.  Minimal production, minimal features, and a writing credit on every song.  I'm not gonna say this album is classic. I'm not gonna say it's gonna have heavy rotation in my iPod. All I'm saying is that it's memorable.
Rihanna finds herself in age of music that is (to the general public) unpredictable. Releases are spotty and major icons don't really stick to the reported dates. Albums change titles every so often and we don't even know if certain artists that make mention of a forthcoming projects are still alive. The whole "surprise album release" with no prior announcement became a thing too.
New album title, WAVES

— KANYE WEST (@kanyewest) January 27, 2016
There may be a new secret album title

— KANYE WEST (@kanyewest) February 8, 2016
Surely the only constant in business (and life for that matter) is change, but what caused this change in the music industry? At what point did superstars figure it was okay to put out a release date to only pretend as if it never existed come time to deliver? Why is the current music and entertainment shaped this way?
Perhaps it lies in the very word "entertainment." There is serious value in it. It's almost as if fans need more than just the music. We want a storyline developed around the artists whether it's true or not.  As annoying as some of the behavior might be to some, it keeps the general public engaged. If someone is a die hard fan and it is rumored that their favorite artist has an album "on the way soon," you better believe that they are going to be on high alert for it's arrival. They will be all over their social media networks with mouths salivating at every tweet the artist or their affiliates posts in regards to their activity.
New leak got the net in a frenzy…no promo

— FUTURE/FREEBANDZ (@1future) February 3, 2016
It's maniacally brilliant.
Some of these superstar artists are on a level where "they can do no wrong" for lack of a better term. They have been elevated to a position of riding and extended wave with media and fans alike, and they are milking it to the fullest. Can we blame them? Their business teams are simply understanding the environment that they are in and making it work for them.
We live in an information age. It's not likely that technology will regress to put us into the dark ages of having to wait for an artist to make a scheduled visit to a show like 106 and Park or TRL in order to announce to fans that something special is on the way and actually following through with it.
A troubling notion to us is the "Samsung sponsoring" going on with the album. What does this do to her branding, overall?
It's wonderful that free download codes were made available to fans. I'm sure the record label was happy to have all the sales from the deal, also. However, there is just a weird feeling that lingers knowing that all the sales didn't come from adoring fans lining up at a local retailer (or online) to spend their hard-earned money on an artist they genuinely love.
Rihanna's 'ANTI' has become the fastest album in history to be certified Platinum! pic.twitter.com/unLR4xaTU7

— Pop Crave (@PopCrave) January 29, 2016
On the other hand, all the listeners who used the free download code are eligible for a two-month Tidal subscription. Since Rihanna is co-owner of Tidal that kind of traffic and data capture should pay dividends long term. It is explained in more detail here via The Atlantic. The point is, decisions sometimes come as a double-edged sword, but in business we often utilize cost benefit analysis to help with the process. If the power players involved with ANTI see the opportunity to make money on a long term basis and possibly marry into a successful situation, what do you think they are going to say?
Let's just say that from our vantage point, it seems like Rihanna is winning.
Carry on, modern icons. Do as you please as long as the market allows it. Your adoring fans will be here for the rollercoaster that is entertainment. We can almost guarantee it.
—–
Purchase ANTI on iTunes
Stream ANTI here.
Connect with Andre and I via Twitter at @Exhibit_Dre and @TheDGood, respectively, to talk about Rihanna's ANTI.