Kai Wright, better known as Sango, has remained unfazed by genres and clichés since he first appeared on the beat scene approximately three years ago. From his ambient, restful beginnings with early releases like Sounds of Chimera and Also Tracey, to his Latin American x trap blends and upbeat vocally-driven anthems seen on more recent releases via his bandcamp and SoundCloud, the Grand Rapids, Michigan producer has crafted one of the most diverse discographies, and yet somehow managed to keep each track just as emotion-invoking as the one that preceded it.
Having received accolades from Drake, The Weeknd, Gilles Peterson and more, Sango has emerged as a man not worried about being ahead of the curve, because he's one of the leaders defining it. Thus, it comes as no surprise that North, his first official LP which released on July 23, 2013 via Soulection, is his greatest and most consistent project to date. I recently had the pleasure of speaking to the producer ahead of his All For You European tour.
Continuing the thematic inspiration Sango has injected into previous releases,(Also Tracey and There's Eugene are tributes to his parents), North tells the "love story of two people on a journey, who find better things in themselves when they are with each other." North also represents Sango's approach to his music as something bigger than himself, and the multi-layered meaning didn't come instantly. "I started working on it last year, around April or May… I [decided that I] just wanted to make an album, and the theme came along as I was making beats for this album that I didn't have a name or theme for. I think I had about 20 or 30 beats just for it, and then it finally came to me."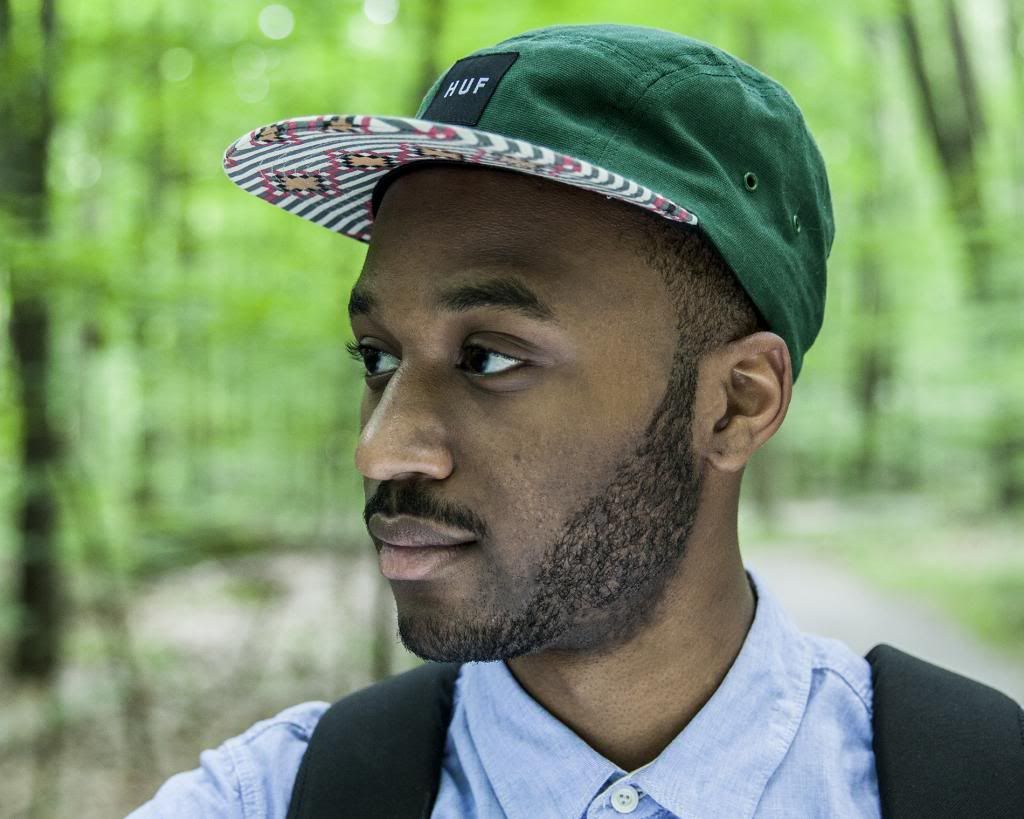 "I was sorting beats, and I didn't really have any direction, so sort of like a spaghetti strainer I would let all of my emotions fall, all of my beats fall through and then I would sort them out. After doing so I would come up with EPs like Da Rochina and Otra Vez. From there I'd find myself cleaning up the extra beats I had laying around, thinking "What kind of story can I tell with this?" and then make more beats and sift them out. I think that process works for me, as I don't have to hold myself back," he explains.
As the next stage of the journey his previous EP Trust Me was formed around, the concept of the album was to take it one step further. "I wanted to continue that journey, but show my growth; how I became as a person and how I became as an artist as well."
With North covering such a wide range of genres it comes as no surprise that Sango's own picks for his favourite track from the LP have backgrounds just as eclectic. "[When it comes to my favourite track] it's between 'She Yells' and 'Here With Me'. 'She Yells' was the first song I made for the album. That day I had an argument with my mom, my girlfriend and my grandmother. I'm not some annoying guy or a problem-starter, but for some reason that day I had an argument with all three of them. After that I sat down and thought, 'Why?!' I kept thinking about it, about how women really care about the men in their life, how they want you to do good, they're yelling for the good. They're not just yelling at you, and I thought 'I've gotta make a song about this!'"
"So I found this sample from Amerie, and it was just so annoying. I wanted to chop the voice up and make it kind of annoying but not too much so. When you listen to the track the vocals get repetitive, super-repetitive, but hopefully people can bare it. That kind of resembles an argument, when women are talking to men [in the argument] it's just 'Blah, blah, blah', and that was where the song came from."
"'Here With Me' is about a person that you miss, that you remember, someone you never met and the feeling of missing someone you've never met before. It's about missing someone, with a happy kind of emotion though. Sometimes you miss someone and you're sad, but you can find things, while you're there or while you're away from that person, that remind you of them, so it's almost like they're with you, and it feels like they're here with you."

North's seventh track, 'Trust Me', is intended as a eponymously titled throwback to the EP, and keen-eyed fans will have noticed that both North and Trust Me carry Hebrew on their artwork ("Glory" on North and "Sabbath" on Trust Me), which the producer himself designed. Sango studies Graphic Design at Western Michigan University.
"Hebrew is one of the earliest languages and scripts developed, and I felt like that has a lot to do with my upbringing and my spirituality. It's hard to decode Hebrew as it's not Latin, and most of the world speaks a Latin based language or some Sanskrit [derived] language, for example in India or what have you. Hebrew is a beautiful language in the way it looks as well, it speaks well with my artwork and connecting the spirituality with it as I want my listeners to have some spiritual connection with it. Not just beats and enjoying it, I actually want them to look for something else, something more than just a good beat," he explains. "I've actually got some ideas bubbling up for a closing EP or LP for this storyline. In my true work, aside from Da Rochina and Otra Vez EP, stuff that I experiment with, you can always expect some kind of spiritual connection."
One of Sango's earliest tweets about the album stated his intentions to get his mother Tracey (the focus of his earlier release Also Tracey), to play keys on the album, and true to his word the producer was able to do so. "I actually put her on this track with Ta-ku [called "Until Saturday"]. It was crazy, she has a keyboard in her room, I was over at her house, we had downtime and I showed her some chords I had. She said "I can add some stuff to this!" So I brought my computer to her room, connected it to the MIDI and she was going off," he revealed. "I've always wanted her to be on a song, she used to make beats back in the 80's and early 90's and there aren't that many women doing that today. I think that's where I get it from, and I feel like she deserves the spotlight and this chance to be on a full album."
North marks Sango's first release with a number of collaborators. From fellow Soulection mainstays Atu and Ta-ku, to Dpat (producer of 'Remember Me' by Wiz Khalifa and The Weeknd), Sango describes the process of working with them like "having a good conversation with somebody you already know."
"Dpat [and I], we already have a song on his project, In Bloom, that he released with Soulection as well. With Atu I had a collab on his past album Pictures On Silence and now I have a collab with both on mine. Some collabs are kind of forced, but none were forced on my album. I do have collabs from the past that have felt a bit forced; it still results in good music but it didn't feel as natural as these on North."

Similarly, North is the first project from Sango that showcases his work with vocalists extensively. JMSN, Brea, and SPZRKT (pronounced Spazzy Rocket) are some of the singers that feature, and for a producer who started out chopping vocal samples working with a vocalist provides a form of relief and satisfaction. "When you're working with samples you sort of think, "Can I use this?" Working with vocalists, such as SPZRKT and those guys always came out perfect, you feel good as that these are people you know, their vocals are a part of your creation and you're not borrowing or using other people's past work." he explains.
"I was talking with my brother the other day, and I was saying, "I'm so glad 'Affection' has no samples in it!" (in the vocal chops). It's a good song, and I don't say that because it's mine, but because JMSN did his thing on it. The song would be just an instrumental if he weren't on it."
Sango seems to share a special friendship with his collaborators, and working with SPZRKT was no different. "He's one of my favourites to work with, because he and I have similar mindsets, and we're spiritually connected as well as being musically connected. Working with him is amazing, and the way 'Middle of Things' happened was that we both needed to get out emotions, so I gave him a beat and he gave me the vocals to go along with that track. I didn't even give him a direction as far as what I wanted; I just gave him the track." he details. "He even kept the name of the beat I sent him. I guess the name of that beat sat well with him and he made a song out of it. That was great."
Beyond the collaborations on his album, Sango is also part of AGO (pronounced as individual letters), a team of rappers, singers and producers that he met when he moved to Michigan from Seattle. Aside from Sango the team comprises of rapper/singer/producer Joose, rapper Famos Ame, producer The Seventh and rapper and fellow Soulection affiliate Waldo. Sango explains, "you know how Drake has his OVO label, but he's a part of Young Money? We're trying to do that, but more of a movement in sound rather than in a record label. It could be a record label one day, but out next plan is to come out with something that people can see us as together. I'm glad I met these people, I would've been alone making music, but then I found them."
Waldo has dropped two projects so far, Pick Your Own Poison and NSDE/OUTSDE, both of which were produced entirely by Sango. "This guy man, he's next. I wanna push him out there and keep continuing to do so. His [latest] release is the first half of a two-part EP, the first part is NSDE, and the second part is OUTSDE. NSDE is about his emotions and what he's experienced inside, he wants to tell the world what he's feeling, and OUTSDE is about how he's affected outside and telling people how they affect him as an artist. It's an interesting topic when you bounce around those ideas."

With Sango's swift rise to prominence in the past year or two, the producer has his eyes set on a few UK-based artists he'd love to collaborate with. "Sampha, I love his voice, the dude's amazing. I'd love to work with Jessie Ware as well; she's awesome. Sade, but that's like a dream collaboration that probably will never happen."
Enjoying the extremely positive reaction North has been receiving, Sango has recently announced that his next release will Da Rocinha 2. The positive response from fans to his baile trap projects and remixes such as "Vem Vem" have surprised even Sango himself, giving way to this sequel. "To be honest, I'm just addicted to the styles of the samples and the reactions of the people. They seem to enjoy the music just as much as I do."
Little about the project besides its title are known, but expect it to drop around late January or early February, taking a soulful approach with more samples based on love compared to its predecessor. Beyond that, he hasn't given too much thought as to what direction to take next, but one can assume it will elevate his sound even higher. "I haven't properly thought about [where to go from here] man. I've had ideas, some are focusing more on AGO, or working with producing for actual people in the industry, working on getting my sound out there in that way and working with singers and other producers."
Sango's debut LP North is out now through Soulection.
Words by Sean J. Grannum.
Watch a Documentary by About Her Films, "A Moment With Sango," below.